DESCRIPTION OF THE DEGREE PROGRAMME
Biomedical engineering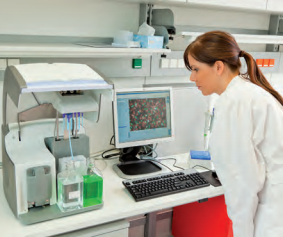 constitutes a new interdisciplinary field which combines technical, medical and biological sciences. Biomedical engineering is the application of modern engineering solutions to medicine for healthcare purposes. Biomedical engineering and genetic engineering are the two fields which currently impact most decisively on progress in medicine. The growing importance of studies in biomedical engineering results from the fact that specialists in this discipline are needed to the development of both technology and medicine.
Programme of studies includes courses in exact, technical and medical sciences. Graduates of biomedical engineering will be equipped with knowledge in the areas of medical propedeutics, biomechanical engineering, engineering of biomaterials, biomedical informatics and medical electronics.They will know how to use modern diagnostic medical equipment and how to select and operate medical imaging equipment. Graduates will also possess good information technology management skills.
FORMS OF STUDY
• 1st degree – B.Sc. studies (Engineer's degree) – full-time studies, duration of studies: 8 semesters
• 1st degree – B.Sc. studies (Engineer's degree) – extramural studies, duration of studies: 8 semesters
SPECIALISATIONS:
• Medical information science
• Biomedical nanotechnology
BIOMEDICAL ENGINEERING – SAMPLE COURSES
• Biochemistry
• Medical physics
• Medical propedeutics
• Human anatomy and physiology
• Information technology (IT)
• Engineering mechanics
• Strength of materials
• Fundamentals of biomechanics
• Electronic components and electronic systems
• Digital and microprocessor techniques
• Medical imaging
• Biomaterials
• Implants and artificial organs
• Legal and ethical aspects of biomedical engineering
EMPLOYMENT PROSPECTS
Biomedical engineers are prepared to cooperate with medical doctors with regard to the operation of diagnostic and therapeutic systems, the integration, operation and maintenance of medical equipment as well as the selection and classification of implant materials and medical apparatus.
The graduates of biomedical engineering can find employment in :
• hospitals, clinics
• research and development units which specialize in research in the field of biomedical engineering
• enterprises which manufacture medical equipment and rehabilitation devices